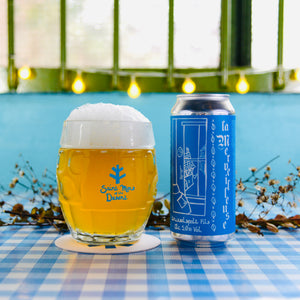 La Merveilleuse (pronounced, if you are interested, Mervayerrrze), is a pilsner lager beer, hopped exclusively with Strisselspalt hops from Alsace. So an Alsation pils!
We fermented this with two lager strains, one of which emphasises the fruity character of the hops, the other which is more traditional, bringing out spicy characters. So this beer has fruitiness in the aroma as well as the more traditional spicy pilsner vibes.
Alc. 5.0% Vol. 440ml can. ALLERGENS: BARLEY. Vegan friendly.