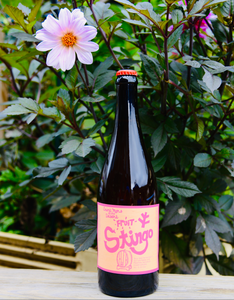 This beer was (deep breath): Fermented slowly in our oak foeder with lactobacillus and our own resident mix of brettanomyces and other small magical creatures, then we added peaches and apricots (sometime in the summer, as far as I remember) and let it ferment out to zero sugars again... Then we moved it into our stainless steel fermenter where we added some fresh sugar and champagne yeast, and then bottled it. NEXT we let those bottles sit warm while the champagne yeast took over the fermentation, and now, finally, it's ready to drink!
Bottle refermented tart beer with peaches and apricots. Fruity on the nose, zingy in the mouth. 750ml bottle. 
The first 100 sales will get a free SMOD trading card!
ALLERGENS: BARLEY, WHEAT, OATS
Vegan friendly.